Blog Home
Pumpkin Spice and Everything Nice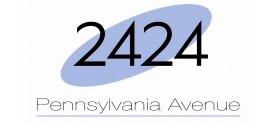 Pumpkin spice lattes are in the Washington D.C. air! That's right, throughout the month of October, and into November (think pumpkin pie for Thanksgiving) pumpkin spice is the flavor of choice. Today the 2424 Penn Blog brings you a variety of pumpkin-based recipes to enjoy all month long here in the city.
Made with a pleasing mix of traditional fall spice flavors (cinnamon, nutmeg, and cloves), milk, pumpkin puree, vanilla, and hot brewed coffee, this tasty treat is perfect for a time out.
This mousse combines all your favorite pumpkin cheesecake flavors, including cream cheese, pumpkin puree, powdered sugar, graham cracker crumbs, vanilla, and pumpkin pie spice, directly into one simple, fluffy, decadent whipped mixture. Do like the author of the recipe did and serve the mousse in fleshed out mini pumpkins for a delightful October treat and decoration, or eat it from a simple bowl. It looks as delicious as it does festive!
"Fall" and "pumpkin pie" might as well be synonyms. This easy treat uses cream cheese, sweetened condensed milk, pumpkin puree, and graham crackers for the sweetest (and creamiest) pumpkin pie you've ever tried.
These cookies are like mini pumpkin pies, but in mummy-cookie form, and without too much pumpkin puree. You get the perfect taste of pumpkin, topped with sweet cinnamon sugar and candy eyes. You'll feel almost too attached to your sweet creations to let them go, but you won't regret it as soon as you take a bite.
"This is a lighter alternative to pumpkin pie. I have not doubled this recipe, so I don't know how that would turn out, but I'd like to know if someone does."
This recipe is pretty much what it says it is. Pumpkin pie cupcakes are just pumpkin pie in cupcake form. It tastes great, and you don't have to worry about accidentally leaving most of the crust behind as you cut your piece.
Thanks for reading today's blog post. We hope everyone enjoys trying out some of these pumpkin spice flavored recipes at your apartment this October.