Blog Home
Let It Snow — And If It Doesn't Make Paper Snowflakes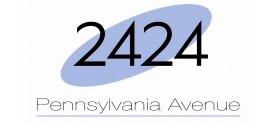 This month the 2424 Penn Blog is bringing our residents ways to decorate their apartments with paper snowflakes for a fun winter-themed look. We've got snowflake patterns and other snowflake-themed crafts to choose from. Check out local Washington, D.C. craft stores for supplies, or just break out the paper and scissors and get started.
How to Make 6-Pointed Paper Snowflakes
If you're a little rusty when it comes to making paper snowflakes, this clear, concise tutorial will help you create beautiful snowflakes in 11 illustrated steps. It all begins with a square of paper and a pair of scissors.
3D Paper Snowflakes with directions from Wikihow
These snowflakes take the fold, cut, and unfold concept a step further. With a little more work you can have a 3D masterpiece. Make some of various sizes to hang in your windows or from the ceiling.
Paper Snowflake Window Curtain
Paper snowflakes can look beautiful in your windows as holiday curtains. Follow this tutorial to create a winter wonderland to hang in your window — a curtain of ice — without the chill.
Clothespin Snowflakes by Stephanie Lynn
These snowflakes bring an old-fashioned feel to holiday decorating. They can be made as a plain and simple ornament, or you can add glitter, feathers, or other bits and pieces to jazz them up. Use them as gift toppers, tree ornaments, or even hang them on the wall.
Lace Snowflakes from the Aunt Peaches blog
Lace is lovely to look at, but we don't often get out grandma's lace tablecloth for everyday use, so perhaps it's time to use it as the basis for a family heirloom. This blog teaches you how to make beautiful snowflakes from lace (get yours from a thrift shop if you can't bear to cut up grandma's tablecloth!).