Blog Home
December Recipes to Bring Warmth to Your Apartment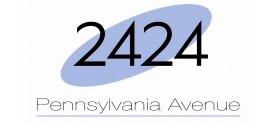 Winter is the time for filling up your apartment with the warm, delicious aromas of your favorite treats cooking on the stove or in the oven here at 2424 Penn. Today we're here to help you do just that! Try one of these great recipes for a meal or snack perfect for this holiday season.
Soups
Slow Cooker Pulled Pork Chili from Slow Cooker Gourmet
Sometimes this time of year is so busy and chilly that making your way to the kitchen even to make a full meal sounds drab. Enter slow cookers! These can be a lifesaver because they do the hard work for you. All you have to do is dump in the ingredients, cover and let cook on low while you're out, shred the pork, stir, and serve as you like it.
Winter Minestrone Soup from Saving Room for Dessert
This vegetable- and nutrient-rich soup is easy to make, not to mention "filling, healthy, hearty, and delicious," as the author of the recipe notes. We're always up for something tasty and healthy!
Drinks
There's nothing quite like curling up on your couch with a blanket and a hot cup of cocoa or your favorite winter drink. Try one of these recipes to turn up the excitement!
Nutella Hot Chocolate from Cafe Delites
If you're a fan of this hazelnut chocolate spread, you'll love this concoction. Make it with low-fat or skim milk to make it slightly healthier than it could be. Fill a mug to the brim with your drink and top with marshmallows and extra chocolate chips to complete the experience.
Red Velvet Hot Chocolate with Cream Cheese Whipped Cream from Tidy Mom
Red velvet isn't just for cake, and we're sure glad Tidy Mom came up with this cocoa inspired by this classic flavor. With whole milk, granulated sugar, semi-sweet baking chocolate, and a cream cheese whipped cream, this drink will definitely be a treat to make and enjoy.
Dessert
Jam-Filled Snowball Cookies from My San Francisco Kitchen
What better way to celebrate this time of year than to make a treat that brings on the nostalgia of tossing snowballs at your friends? These snowball cookies can be filled with jam or Nutella, so make them your own. Just don't forget to roll them in powdered sugar so you can channel the love of snow into a delicious treat that no one will want to throw at anyone else.
What are your favorite recipes to make this time of year? What are your favorite shops to get any other treats here in Washington, D.C.? Let us know in the comments so we can try them out. Thanks for reading and have fun with these recipes! Happy holidays!